Smallest islands in India, like beautiful Lakshadweep.
Smallest islands in India are typically full of palm trees and warm sandy beaches. Palm-fringed beaches, salty breezes, and sublime ocean views that seem to stretch into infinity – there is something about laid-back islands that keeps capturing the imagination of travelers across the world from the UK to the US and many more. We bet. that you if not an experienced traveler in India or living on these islands have never heard about them. It is a big world out there. Let´s talk travel to far away places.
Andaman & Nicobar are famous already but there are more
In India, the first names that come to mind when one starts dreaming of an island getaway are Andaman & Nicobar and Lakshadweep islands. While these famously beautiful archipelagos inhabit prominent spots on the Indian traveler's bucket list, there are other picture-perfect islands in India that have managed to stay under the radar.
Lakshadweep smallest territory with still unidentified islands
Lakshadweep is the smallest territory in India. It consists of 12 coral atolls, three coral reefs, and five sandbanks. The area of the islands is 32 km². The islands are located in the Arabian Sea 200 to 300 km off the coast of Kerala. Eleven of the islands are inhabited. There are several small islands that are not listed.
Here's a list of more little-known islands in India that are perfect for a dreamy island getaway minus the crowds. With spectacular scenery, quaint houses and a relative lack of selfie-snappers, they are sure to leave you enchanted!
Divar Island, Goa
Divar Island Island is situated near beautiful Goa and it is worth a detour anyday:
Old mansions, pretty beaches and sleepy little roads winding their way across the island are just some of the reasons why you'll love the island of Divar. Just a ferry ride away from Old Goa and Ribandar, this serene island is home to two ancient temples and a pretty white church perched on a hill top.
India's sunshine state might also be its party capital, with glittering beaches and crowds of tourists thronging to them throughout the year. Goa´s got it going.
Top beaches? Calangute and Baga
But if you go beyond the ordinary and the popular, there's a lot more to this coastal state than meets the eye. With the popular beaches up north such as Calangute and Baga being hot spots for visitors, try venturing towards the south or inland, away from the sea. Paddy fields, meandering rivers and small jungles, preserve the charm and tranquility of countryside Goa.
Now we reach Divar
A little way inland from Panjim, on the Mandovi River lies the island of Divar. Piedade Village is a settlement at the bottom of a small forested hillock and is the best place to base yourself out of. ake sure you head to this part of Goa and visit these 4 places around the island for a fantastic vacation unlike any you might have had in the state before.
St. Mary's Island, Karnataka
Also known as Coconut Island or Thonsepar, St Mary's Island lies off the coast of Malpe in Karnataka. Renown for its unique hexagonal columns of basaltic lava, this pristine little island is believed to have been a halt for Vasco Da Gama during his journey to Kerala. Watching a surreal sunset at St Mary's Island, sitting on a rock with your feet dipped in the warm waters, is an experience not to be missed.
Munroe Island, Kerala
A collection of eight tiny isles in the backwaters of Ashtamudi Lake and Kallada River (yes we all know these), Munroe Island is one of Kerala's hidden gems. The picturesque island lies carpeted in verdant coconut plantations interspersed with fish farms and narrow creeks bursting with hyacinth blossoms.
Umananda Island, Assam
The smallest inhabited island in India and the whole world is surrounded by the Brahmaputra River running through Guwahati in Assam, a state in northeastern India. Yes, it is a river island and pretty rare as such.  Umananda Island stands proudly in the middle of the mighty Brahmaputra. It is also known as the Peacock Island, a name given to it by a poetic British Officer who felt that the island's lush green foliage was reminiscent of a peacock in full plumage.
Its name is derived from Assamese Uma, another name for the Hindu goddess Parvati, the wife of Shiva; and ananda, which translates to "joy."
A pathway winds its way through the thickly forested island to a Shiva temple that is an important pilgrimage center for devout locals.
Ilha Grande, Goa
Ilha de Goa is the largest of the islands of Ilhas de Goa, in the basin of the Zuari and Mandovi Rivers in Goa. This island is the largest and the most populous island in the state of Goa.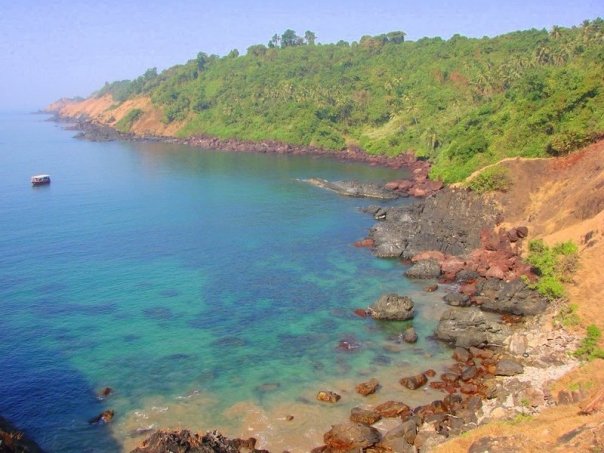 One of Goa's largest islands, Ilha Grande offers you the chance to lounge on sun-warmed rocks, spot a few frolicking dolphins and snorkel in the cerulean blue waters of the Arabian Sea. Located near the city of Vasco, this pretty island also has some great scuba diving sites (including Suzy's Wreck, Bounty Bay and Shelter Cove).
Netrani Island, Karnataka
Netrani is a small island in India located in the Arabian Sea. It is off the coast of Karnataka located approx. 10 nautical miles from the temple city of Murudeshwara in Bhatkal Taluka. The island can be seen from the mainland over 15 km away. The views above give this island the look of being heart-shaped.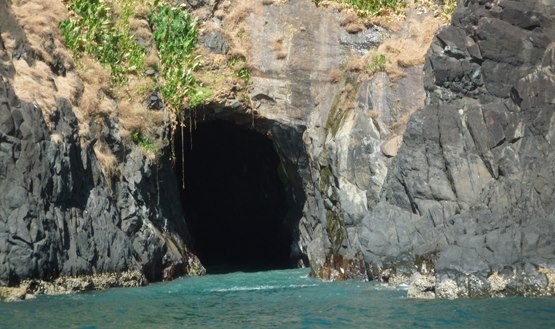 Just off the coast of Murudeshwar (a temple town in coastal Karnataka), this little island is a paradise for those who like exploring the underwater world and the treasures it holds. The crystal clear water here lets you enjoy a stunning visual of the island's rich marine life that includes stately turtles, spiky sea urchins, curious schools of colorful fish and the occasional wary shark.
Diving with traveltalk around the world
Valiyaparamba Island, Kerala, the very smallest islands in India
Located in the Kasaragod district of Kerala, Valiyaparamba Island lies nestled in the palm-fringed Kavvayi backwaters. Fed by four rivers, this biodiversity hotspot is perhaps the prettiest backwater stretch in the state. This isn't your typical island getaway, but a trip to Valiyaparamba island is one you'll never forget.
Travel to India, important travel information
Did you like the story  the smallest Indian Islands?
Then see the smallest islands in Asia and Africa