Singapore bars serves more than Gin Slings
Singapore bars are the best in the "crazy good bars" category in Southeast Asia right now. We don't have to invent the category to put them there. The bars in Singapore are so inventive, the budgets to carry out extravagant concepts or simply just inventive bar concepts seem limitless.
So is Singapore the new "party capital" in Southeast Asia? Something suggests it is, for now, you have to fight for the position cause other Asian capitals and major cities are in contention! Creativity in Singapore is enormous, both in terms of concepts for Singapore bars and interiors and their very creative, sometimes borderline drinks. We will get back to that. But the classic drinks are also available here, of course. Prince Harry comes here occasionally, maybe not so much after the baby, but good reference anyhow. So you can hang out with (a) Prince for a little high-end pub crawling? Here is a little guidance so you can walk or drive (at least out) directly to and from the hot spots.
Singapore bars can be hard to find – intentionally: Operation Dagger
The list of Singapore bars, ie those with clearly implemented different concepts, could well start here:
Operation Dagger is superior when it comes to creating a special expectation and mood: You can only find the place by following some graffiti and going in through a dubious anonymous door, but then everything changes: A cool mood from the first second and a drink card that includes 'The Egg' a salted, caramelized drink served in a smoking bird nest – uh of course it is.
Native, one of Singapore bars with impressive innovation gives you ant creeps
Next stop on the route across Singapore bars is Native. At Native, located on Amoy Street, they are perhaps inspired by Noma in Denmark, a few years ago the best restaurant in the world and they loved to serve live insects, inspired by Asia's use of ants in food. Native's signature drink at Native is called "Ants", but you can be relatively calm. There are no live ants in the drink that form collective intelligence clever formations in your drink to survive. It is a coconut room cocktail with well-roasted, crunchy ants in. It is served on fresh, large basil leaves so it's easy. You with the crisp little beasts and down with the drink and then "well-known" from here! You have now also received today's protein supplement.
Sky Bar in Singapore's upper luxury
Are you more into solid luxury and less adventure oriented? They also face this challenge in Singapore:
Sky Bar at the top of CÉ LA VI – has an incredible 360-degree view of Singapore and here is as the photo suggests a high chill-out factor.
BespokeD
D Bespoke is the next stop on the trip. Now you are probably already in a good mood if you have followed the route here. You meet a bar with a bold concept twist. The bar is hidden behind a designer shoe store on Bukit Pasoh Road. Here we go conceptually to "classic/delicious" with handmade champagne coolers and beer mats in genuine sterling silver, filtered ice lumps, and cool guests. A dream place, another world for a while.
Atlas, a gin joint to remember
If we are going to the top of our serious research of Singapore's bars, then the newly opened Atlas is calling. Atlas is proclaimed the world's most ambitious Gin Bar. It's quite a lot to have as an aspiration, as in London and New York there are great high-level gin bars and there is actually also a gin hotel mentioned here on traveltalk.dk with little 4000 different gin. But is Atlas the best? We think here at the editorial office, you should let it get a try. Maybe not before the day after the other visits? 🙂 Here is the interior art-deco lobby style and in any case, you get the city's best Gin Martini.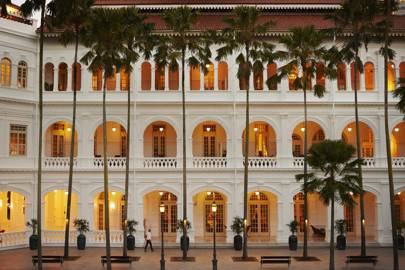 Raffles the iconic hotel and bar under a highly anticipated reopening
Singapore Airlines takes you to Singapore  in style
Singapore