Klunkerkranich: The roof of a parking lot is now a green café – that´s ecology Berlin-style!
Klunkerkranich is about urban Ecology. At the top of the Neukölln Arcade shopping center i Berlin, clever innovators have transformed a bleak and deserted car park into an organic garden complete with café, bar and beach atmosphere.
Quite apart from the beauty of growing things organically in Berlin in a totally untraditional way, the view from the rooftop terrace across Neukölln and a large part of Berlin is one of the city´s best.
What started out a few years ago as illegal rave parties in a spooky parking lot in an arcade, developed into a bar and café in 2013, and has now become a joint project that includes a bar, café and urban garden.
A Klunkerkranich – pronounced more or less like it is spelled – is a species of African crane. A very large crane with feathered wattles on the side of its throat. The bird builds its nest, wherever possible, in green surroundings.
Klunker Garten
Part of the project includes attempts to reduce CO2 emissions, the environmental effects of plant son their surroundings as well as urban ecology and the registration of the diversity of species and their living conditions in the municipal area. All alternative, beautiful and part of the wave …or perhaps ripple… of ecological efforts springing up in the city these days.
Here, they breed their own bees and grow their own herbs, fruit and vegetables for the café and restaurant. The garden is run along the lines of an association adhering to the principle that it is for everyone, so no one keeps their fruit and vegetable crops only for their own use.
A couple of days a week, enthusiasts can join in on the project´s gardening day, and if you´d like to do more, they are often looking for volunteers to help out at the association, or in the café, among other places. So you, too, can do your bit and contribute to the increasing ecology in Berlin.
At Fetten Finken
Zum Fetten Finken Café serves brunch with freshly prepared, tasty dishes, all organic naturally. The evening menu features delicious sandwiches and French fries. Simple, rustic food that matches the surroundings and atmosphere.
In the afternoons and evenings, there is music, clubbing, electro, jazz, or whatever is on the programme that week. From 16:00 onwards, there is a small entrance fee of 3 – 4 Euros.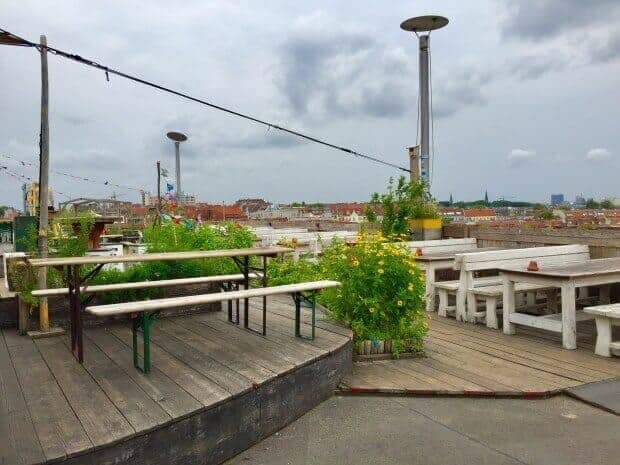 It is relatively easy to find Klunkerkranich: Take the elevator to the P5 parking level in the Neukölln Arcade, exit at the parking level; follow the signs to and up the ramp to the level that was previously called P6.
Here, you´ll step into a completely different world with panorama views over Neukölln and Berlin.
Experience Germany from your retro camper or caravan. Inexpensive, it offers you maximum freedom and new experiences at every turn-off. On a road trip and camping vacation in Germany.
Read more about Germany and Berlin at traveltalk.dk
Read more about Berlin at Berlinblog.dk