Ischgl in Austria, a weekend asking for more
Ischgl is easy to reach from most of Europe: For us, it was only a few fly-flights with service-like Austrian Airlines. Flying with scheduled flights, good legroom and a glass of juice, wine (yes) or the like is great, and then you're on your way. Then a taxi, it took approx. 1 hour and 15 min. so share the rather long taxi ride with others if you are not traveling in a group or take the bus. Then we were in Ischgl in Tirol, Austria close to Christmas,, and the snow had just fallen and continued to fall, and all the snow cannons worked on a high pressure day and night to literally create the basis for a long, big season. Another way is, of course, drive-yourself.
Ischgl is top skiing in Austria, end of story
And all seasons are great in Ischgl, for the skiing terrain and town, and the overall skiing experience is among the greatest in the Alps. If we are going outside the country it is St. Moritz or Cortina in Italy or Courchevel in France, reminiscent of Ischgl or you have to fly far, like Canada or the USA, to get a similar total skiing experience. For it is precisely the total experience that makes the biggest impression: There are not really any weaknesses: Approx. 290 km of ski terrain including the neighboring towns, which are part of the lift map and the Swiss side, with up to 10 km of slopes directly down to Ischgl, which may be dark red, and beautiful skiing in and out of Switzerland in Samnaun with the famous smuggling route. Lots of off-piste and heliski.
Where exactly is Ischgl?
Ischgl is strategically beautiful placed in the Pazna Valley in Tirol at an altitude of 1.400 meters. You run down from up to approx. 2800 meters. Therefore, here is also very snow safe. In the city itself, there is a special atmosphere, because you are on all sides surrounded by really high and truly impressive mountains. Here protected on all sides is Ischgl surrounded by the Silvretta Mountains, which parts of the lift system are named after. It is not for fun that Ischgl is known as one of Austria's most sought after ski resorts. Ischgl has earned the reputation, as a mix of a state-of-the-art ski resort with star restaurants, the nicest ski shops we've seen, and more humble eateries, delicious wine bars, and a classy après-ski bars. Then add a good measure of  Austrian good style and charm. And you got it.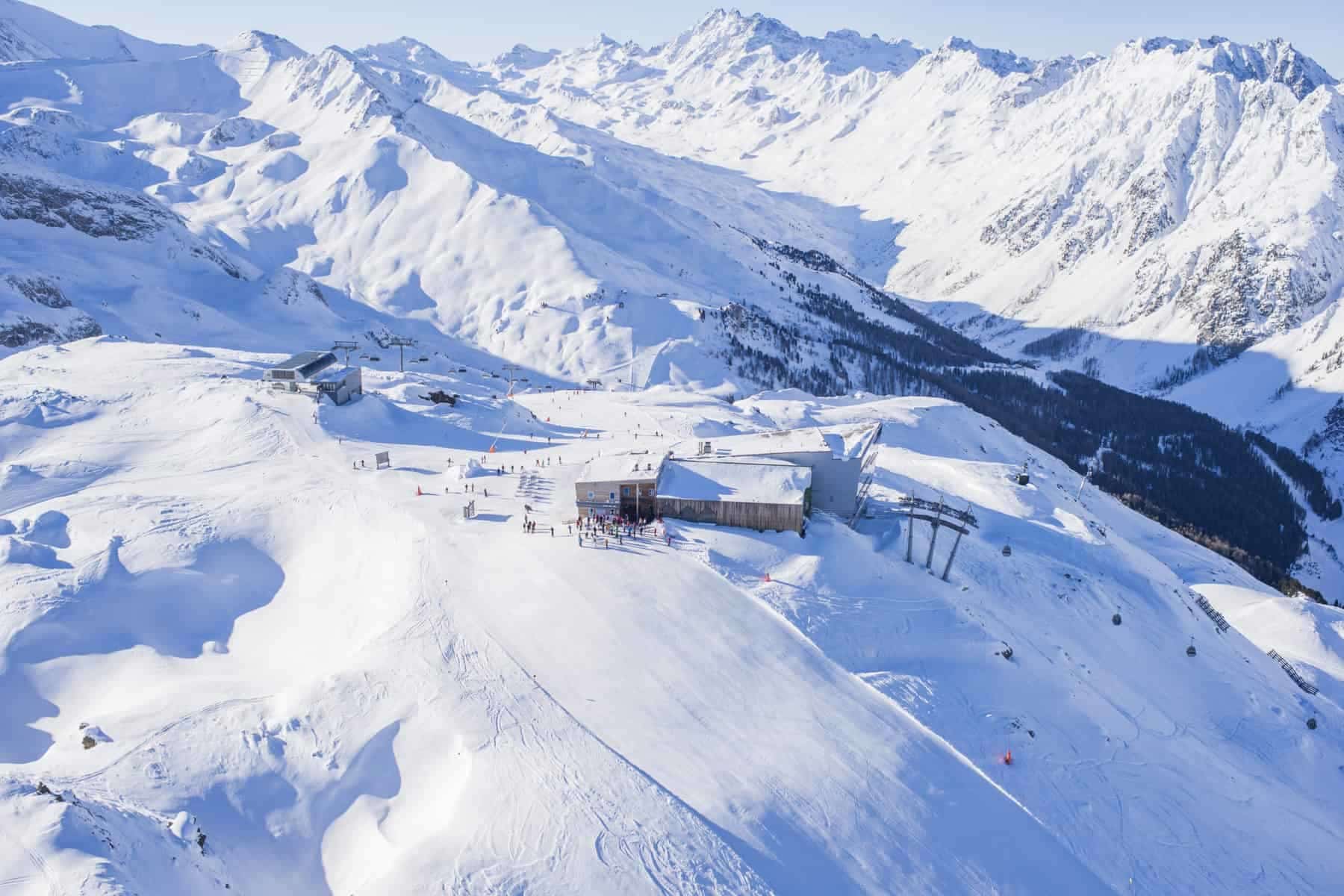 There are always two huge concerts one at the start of the season and one at the end of the season. Both are events with over 10000  spectators or rather participants in a major party, either in the city itself at the start of the season or upon the hill around Easter. In 2018 it was Jason Derolo and on 30.11.2019 it was the cool band Seed with over 20 participants in the band + crew, cheered by 20.000 party dancing people. So many star names have been there, you think it can´t be true. A very young Beyoncé, a little older Elton John and everything in between, but they're all  there with a poster/photo in the tunnel that connects several parts of the city to the smart conveyor belt, as at the airport. You walk approx. 150 meters or just standing and there is a top star on the wall for approx. every 2 meters. Say what?
The modern Ischgl
The modern Ischgl shows up a bit with amazing fast lifts and a myriad of ski canoes in the terrain, but also in the city among others. Here's how to take the aforementioned rolling sidewalk beneath the city when you need to quickly get around: 150 meters long rolling pavement, brilliantly thought. Access is via a lift in the middle of it all, which connects the higher-lying part of the city with the relatively lower one. In the middle, then, are the two rolling pavement. From there, roll out to the lift or part of town you want to visit. Maybe the next thing that met us in the city is a partial marketing move, because it is Ischgl like everything else with tourism really good for, but you feel the smell of costume somewhere in the city. Just the nostalgic scent of hay and horse, but no, it's good enough that there are housed horses in the middle of town. Ischgl is Austrian mountain history, après-ski and top-class skiing all in one place.
What should you experience in the Ischgl skiing?
First, you just have to have the history of the ski lifts. Austrians in general are very good at experience economics. The example here is that Ischgl's ski lifts are owned by a relatively few people who have agreed that almost all revenue goes directly to improving the lift system and expanding / improving the ski area. It provides perhaps the best lift system we've seen anywhere. And it gives the city a healthy over-all income from ski tourism. What's not to like?
Ski pass to Ischgl
The large area of ​​approx. 290 km including neighboring towns and the possibility of entering Switzerland via Samnaun, offers among others. on 8 to 10 km long red slopes and a good mix of blue lighter slopes, so you can always get down easily and black slopes, which is a real challenge for most as well as legendary off-piste. The entire area is snow safe and packed with snow cannons, so you browse. also can always run all the way down to après-ski in the city.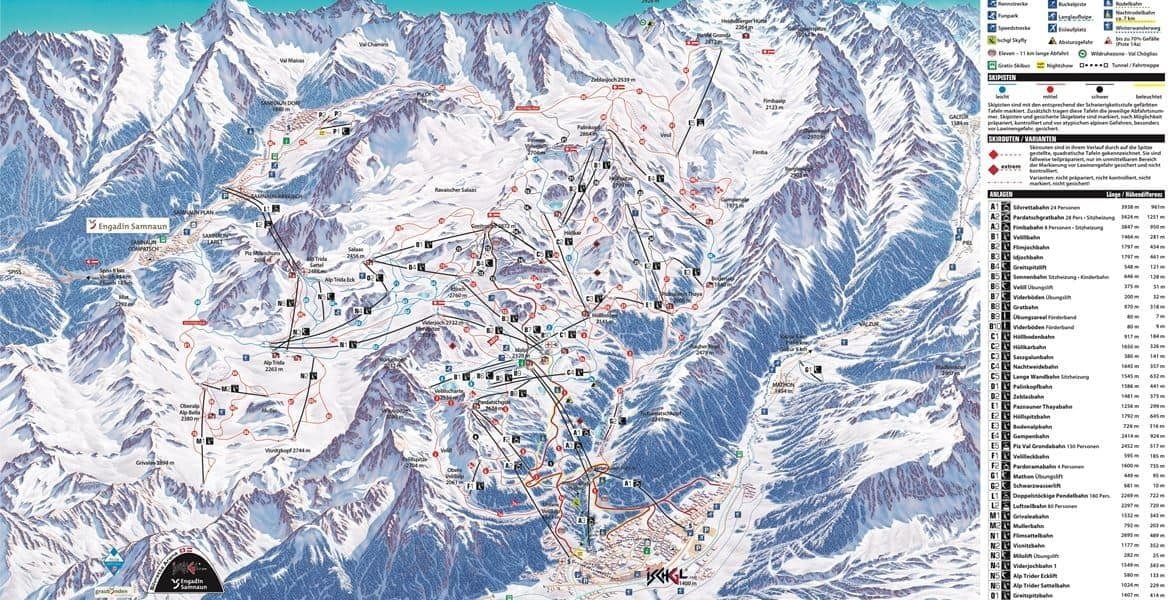 600 mill. Euro invested in ski lifts
Why is it so good to spend billions on ski lifts? With the almost annual huge investments in the lift system, 600 million Euro in total, there are very few old lifts left. Before a lift is worn out, it is replaced and may be sold to a less privileged ski resort. We are talking new 8-person lifts with heat in the seat, which almost dances up the mountain on a time-saving, really steep route with 6 m / s. You are up in "no time". From the city itself, you can choose at least 3 lifts to the classic meeting point on the mountain, so wherever you live, there is a lift for you within a few 100 meters. That's why Ischgl is hard to beat in this crucial ski vacation discipline: "Fast to the top". In return you come in high season, there are many people on the mountain. They also get around easily, but there are some crowded slopes that go all the way down to the city, some opt out because of traffic late afternoon, and in turn, it fires off up the mountain. There's always plenty of room here. You have two countries available!
In 2019/20, especially the new Velilleckbahn F1 and Visnitzbahn lifts are attracting attention.
We were transported up in no time and ran 8 km long undisturbed slopes in the absolute rear area of Ischgl after 1-2 lifts further into the far above the 2000 meter altitude.
Just watch this mood video recorded shortly after the season-opening on 20.112019.
The famous trip to Samnaun in Switzerland – without a passport – also called smuggling the route, and skiing we tried too. However, we did not have time to take neither gold, silver or bronze medals, which you can register directly in Ischgl's app. It's pretty smart:
The ski area offers some of the longest and best slopes we have tried in recent years.
Ischgl app
You can't do that app: All the lifts are included, are the lifts open / closed? All the heights and rankings, where am I, etc. Clearly 5 stars for it.
Download the Ischgl app here for both Apple and Android (basically all other mobiles). Download the smart Skiapp or Read more.
Ischgl Skyfly. This is wild zip lining!
Ischgl SKYFLY, adrenaline rush is part of the Ischgl experience! Along a two-kilometer long steel rope, you fly through Ischgl's Kitzloch Gorge and reach up to 85 kilometers per hour! In the winter, you have a great view of the snow-covered slopes down the valley, and to all the skiers that look like ants during your zipline flight. Skiing and snowboards can be stretched on your back during the entire flight, so you are ready to continue skiing. A little dizzy in the good way.
If you are looking for an adrenaline kick without a right, you will love Ischgl SKYFLY! So you might have to pinpoint and grab a brave companion (because two people can zip-line side by side) and then it's just Abfarht!
Where to eat on the mountain?
Once you're up in the field, you can make your pit stops from burgers for $ 30 to decidedly gourmet food. It is very difficult to complain about the committee.
Pardorama, the top restaurant at the central station in Ischgl
If you want to eat well up in the terrain, it is in the newly designed Pardorama that you easily reach from the city in one fell swoop. Here you get both local dishes and international food as good steaks. It is not canteen food by any means. It's all cool and the view is breathtaking.
The smuggling route to Switzerland.
We have already written about the smuggling route for skiing from Ischgl to Samnaun, but now there is the app that automatically registers your trip!
Running to Switzerland and via the sharp is fun and exciting Skiapp you can see and choose between the bronze trip (can be completed in a couple of hours), silver or gold smuggling / (takes from a 1/2 day to a little more) named after the country-to-country skiing that was in the old days, where food and beverages were collected from country to country reasonably duty-free. This trip has been voted several times in the best ski route of the Alps.
Why not travel on ski holidays in the off-seasons
You get approx. what you pay for here in life, and Ischgl is no exception, but when you can buy a glass of class wine for 5-6 Euro and a big draft beer at an "expensive" place for 5-6 Euros, then you can safely pull the Dankort card forward from time to time and be the happy giver. And then you have already made room in the budget by traveling in the off-season, as we did. It is actually today's travel tip. Now use the off-seasons if you have time.
The trick is that you travel so much cheaper in the pre-season and in the post-season. Ie before Christmas and from March to Easter, but Easter itself costs more. If you can, travel during the two off-season periods, maybe just take a shorter trip? Then it's all much cheaper from the actual journey to the lift pass. Maybe the ski rental is the same, but on the two most important items you have saved a considerable amount! Probably under 1/2 of the normal price per day if you can move at fairly short notice.
If you are the type that we are, would like to go skiing a couple of times a year, this is the cheapest and perhaps most rewarding way to do it. You open and / or close the ski season. In Ischgl, everything is open from the end of November (see the article on the huge opening party) in the city and more than 90% percent of the skiing, but there are far less than 1/2 as many people in the city without it appearing empty. In fact, it is convenient if you would like some space on the hill for the big gentlemen's turns and a good table in the restaurants without booking days in advance.
The party that never ends
Then what do you not get? You may not get the biggest after-skiing party you could have for Christmas, February or Easter, yes throughout the main season, then you are a bit of a party loser, then you have to give a little more, and Ischgl is surely one of the ski resorts, where there's most time in it – always. If you travel in March, there is typically new snow again, a little more people than before Christmas, and then there is also plenty of sun to brown. And the price drops like snowflakes from the sky, We like it!
If you travel at Easter it costs a full ticket to see how beautiful it is in the spring, with the sun in the sky, still skiing "to die for" and you join in the huge thanks for the season, party, Ischgl holds every year.
"Madame Brigitte" – four stars plus, officially
Let's start with the hotels in general. Frankly, there are fewer 2-star hotels than 4 stars. It's from 3 stars and up, it's snowing. There are most 4 stars that can also have a discreet S for Superior, ie one between category up to 5 sparkling stars, which also exists. There are a few of them. Do you want to stay at a designer hotel like Paris Hilton in Ischgl for a few years frequented with Limo pickup in a rebuilt Hummer, which in turn is a rebuilt giant Jeep, more or less conceived by Arnold Schwarzenegger in addition to the US military, you do just that. But that variant was somewhat offset by our budget.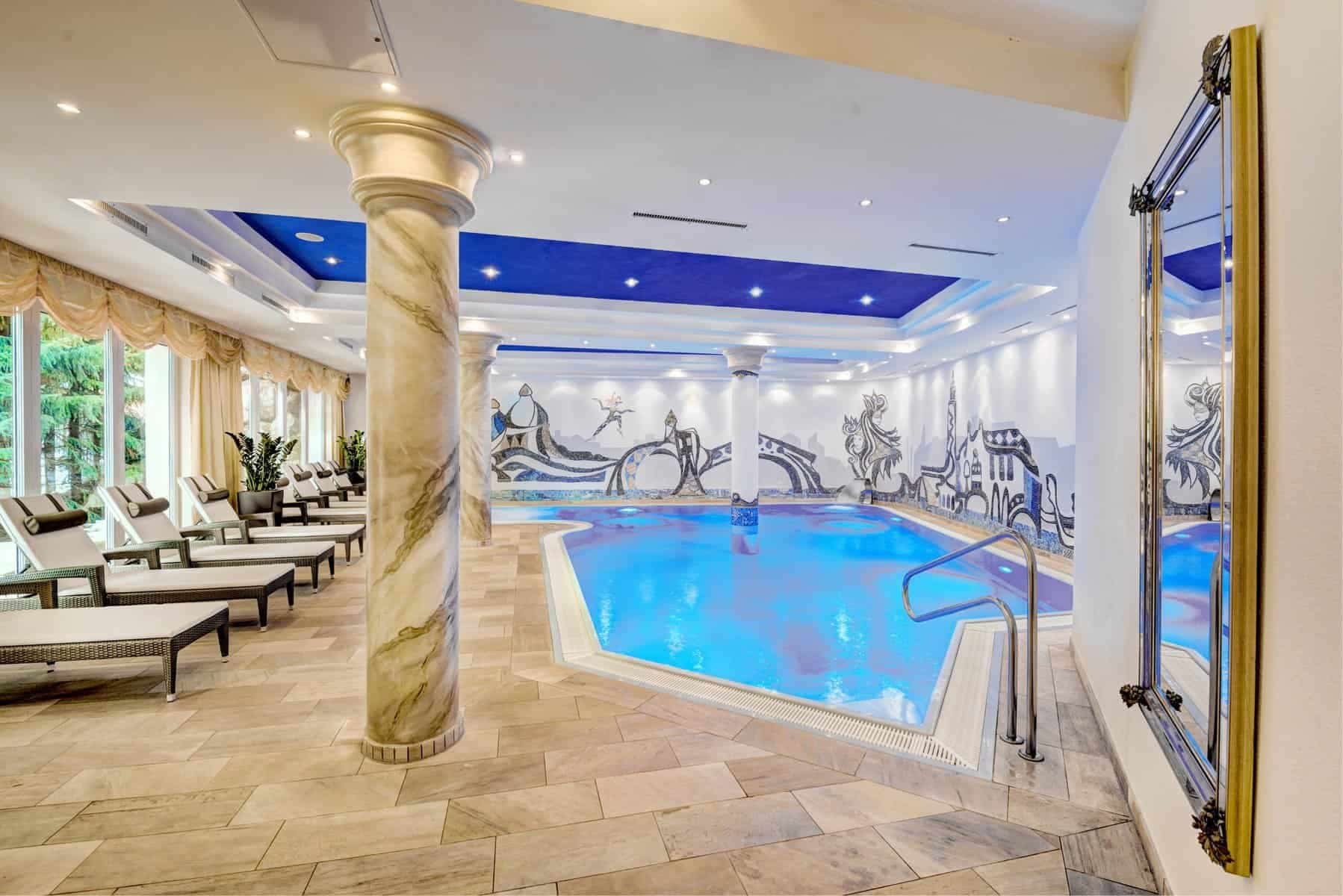 So we chose the extremely delicate Hotel Brigitte **** superior, which can not be more central to the conveyor belt lifts and a very relaxed après skiing, which became our favorite place due to a really good Glühwein and the 87 meters to the hotel. We could manage that without a taxi.
It is a close to faultless hotel. We do not write this every time, but see the pictures below in the gallery. The food is a 1/10 mm below Michelin food every night, without a hitch, and the breakfast is wildly impressive. The raw materials are expensive and delicious, such as. the monkey fish that fortunately did not look at us, for an Erosa Erosa is one of the ugliest fish to be found, but also one of the most sought after to eat. That monkey was incredibly accurate but fried.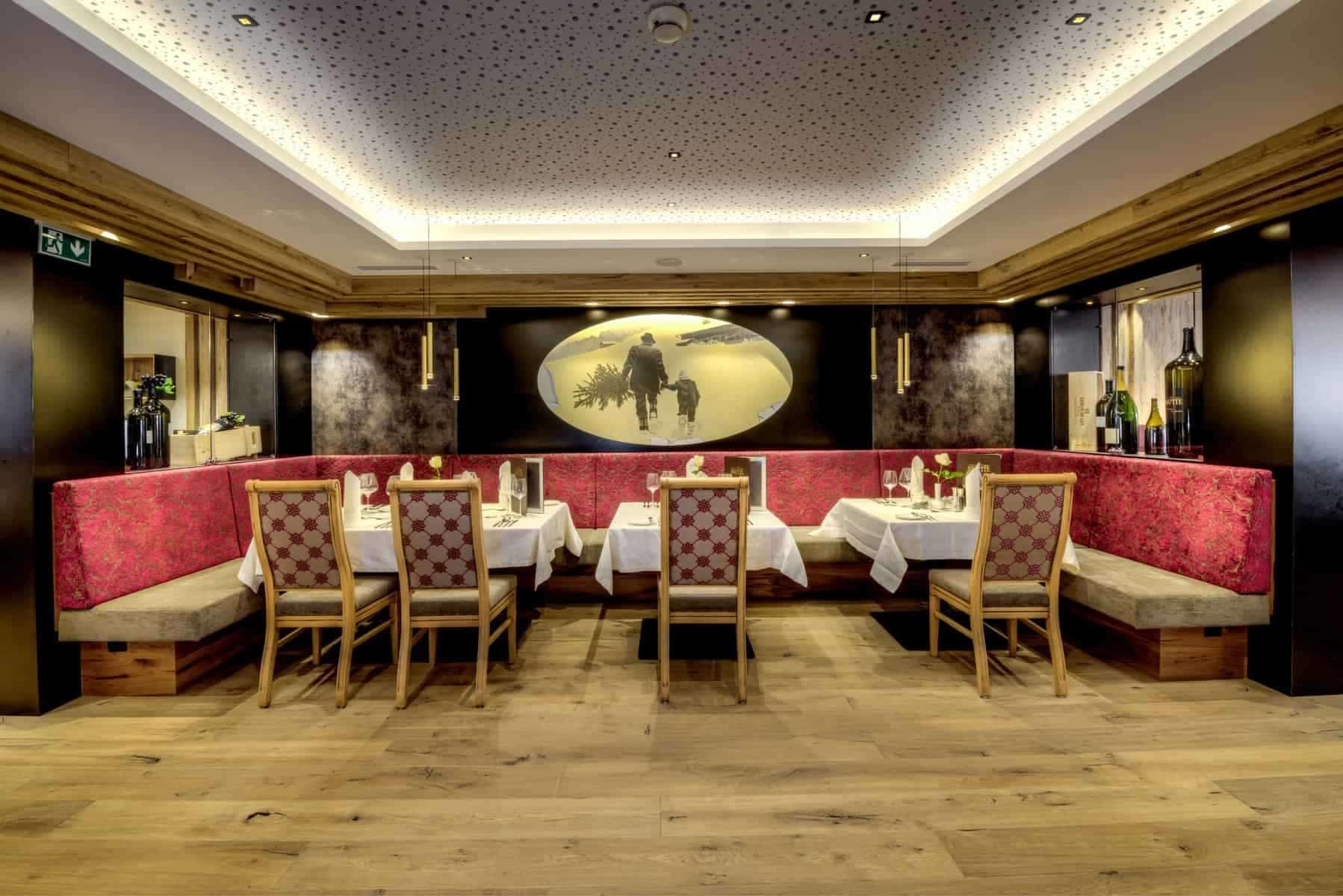 Then we go up, you – on the mountain
The breakfast is luxurious: There is, of course, a morning fresh chef who makes omelets in all the shadows, or whatever he has to conjure up at your request. There are eight kinds of yogurt etc. and just as many muesli varieties. The best bacon, about 25 cm long perfectly crispy pork with scrambled eggs and small round potato pancakes. There is plenty of fruit and a huge cheese table. Add to that a smaller bakery of breakfast bread and whole authentic frames of honey. 10 kinds of juice quickly spoken and sorry for all we forgot. It is highly addictive.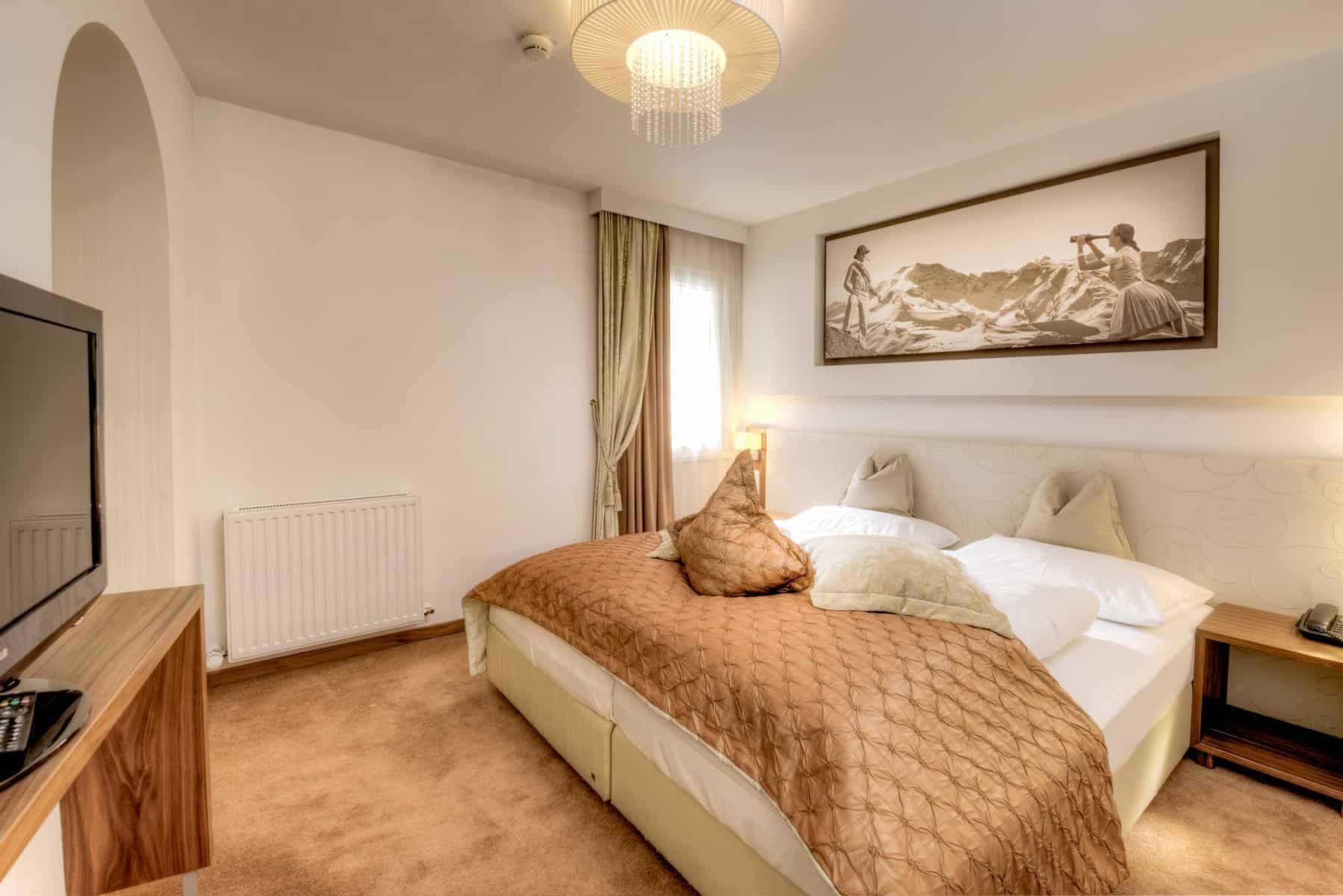 The rooms are large and comfortable. We think they, like the rest of the hotel, have a good style, not too cramped modern or too old-fashioned soft lux, just modern and delicious and not least elegant. There is an indoor swimming pool, sauna etc, complete wellness area.
Is my bar tab?
It must be an excellent bar, says my talented accountant after looking at our bill. But really, beverages well below Danish prices, so we were just so spontaneously happy that we went up in class: Better wine, better Grappa, etc., and invited old friends from outside, so it was an effective way to offset the price difference. It's also a tip. Now make sure you use the Euro in a good way!
There are a pool table and other toys such as table tennis and table hockey for adults and children. There is a wine cellar section on the living room floor where you can pick some grapes in a bottle and enjoy it undisturbed with family and or friends. Personally, I say Green Veltliner, the Austrian white wine that is so much on the rise in the wine world. Buy it before it gets much mor expensive.  It is close to 20 Euro a bottle and even at that price, it is well worth it.
The guests were friendly and quite international. When we were there, there was a football match with Belgium as a participant, and a Belgian guest (thank you again) bought a huge box of chocolate and distributed it to everyone in the lounge/bar area. Then we stayed with the Belgians for a while.
Short and sweet conclusion  about Hotel Brigitte in Ischgl
Room rates include the following services: Buffet breakfast, 4-course menu, salad and cheese buffet weekly gala dinner with aperitif, afternoon snack (actually a meal like pasta); Spa area with indoor pool, Finnish sauna, bio sauna, aroma steam bath, salt bath, infrared cabin, ice cave, gym. We give them as many stars as they officially have!
Just visit the Tourist Office in Ischgl
You may think you know most about Ischgl, but something new is happening all the time and Ischgl's centrally located tourist office has its fingers on the pulse. The super-smooth operation, engaged and knowledgable service, brochures, and direct information. Go down there one of the first days. It was through them that we found zip lining. They also help you arrange excursions or answer questions such as where can I get our children looked after one day? or where is there a good Austrian wine bar that also serves some food? How do I get to Innsbruck? They make sure you are ready and informed for your stay. And if you travel with a travel agency, you are definitely still can learn more learning about Ischgl to improve the overall quality of the stay.
Do you want to go out?
The town is teeming with good places for après skiing and down to earth wine bars. Ischgl is not particularly large with only 1600 permanent inhabitants but has it all. The city is there for you: So take a walk down or up through the city, and the suggestions for food and drink are in line.
If you want to dine out, there are a considerable number of restaurants that collect local varieties of Michelin stars, should not be able to say, they can be exchanged, but go for either the price of the card if it should be affordable or how many so-called Toques, you have. It really means a small-cap and is French. Yes, we looked it up. There are 9 restaurants in 2019 that have one or more caps.
One restaurant suggestion is Lucy Wang. It looks very exotic, but so is the point. Several restaurants come here for review.
Booking for Ischgl
You can advantageously travel with Nortlander or Danski, which we negotiate ourselves, so we have a small share in that recommendation. Go here on your travel book below and see what's on the travel menu!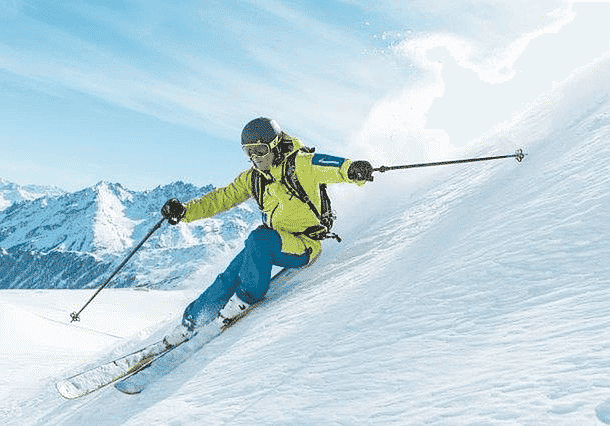 Ski holidays in Austria (Danish site with english translation)
Sölden and Obergurgl, next door with shared lift pass
Ski holidays in other countries