Golf in Dubai, a pitching wedge from sand and sea
Golf in Dubai is a big thing in the golf world. Race to Dubai on the European Tour and in general a top-notch reputation. The emirates' eminent courses are mostly in Dubai, by the Arabian Gulf Bay..
These are royal courses, they are also great courses elsewhere in the world, but everything is carefully executed here in Dubai. You get a royal service from the time you arrive until leaving the clubhouse and superior golf course. The downside is the heat, sometime around 50 degrees Celsius, but you can even play at night or use air con golf carts. Nothing must interfere with a great golf experience, right?  
Which courses should you play in Dubai? All of them, we would say, but it costs a bit of cash to play first-class, so we thought we would pick a bouquet in the oasis in Dubai. Just for you of course. 
Green fees are not giveaways in Dubai, that being said, if you travel with a group trip, then there is hope. From approx. 120 Euros and well up above 2 x that price bought at the clubhouse  (2021), but bought through your hotel,  travel agencies, golf booing from home, or local golf booking agencies,  you can find it cheaper. Or find cheaper time slots to play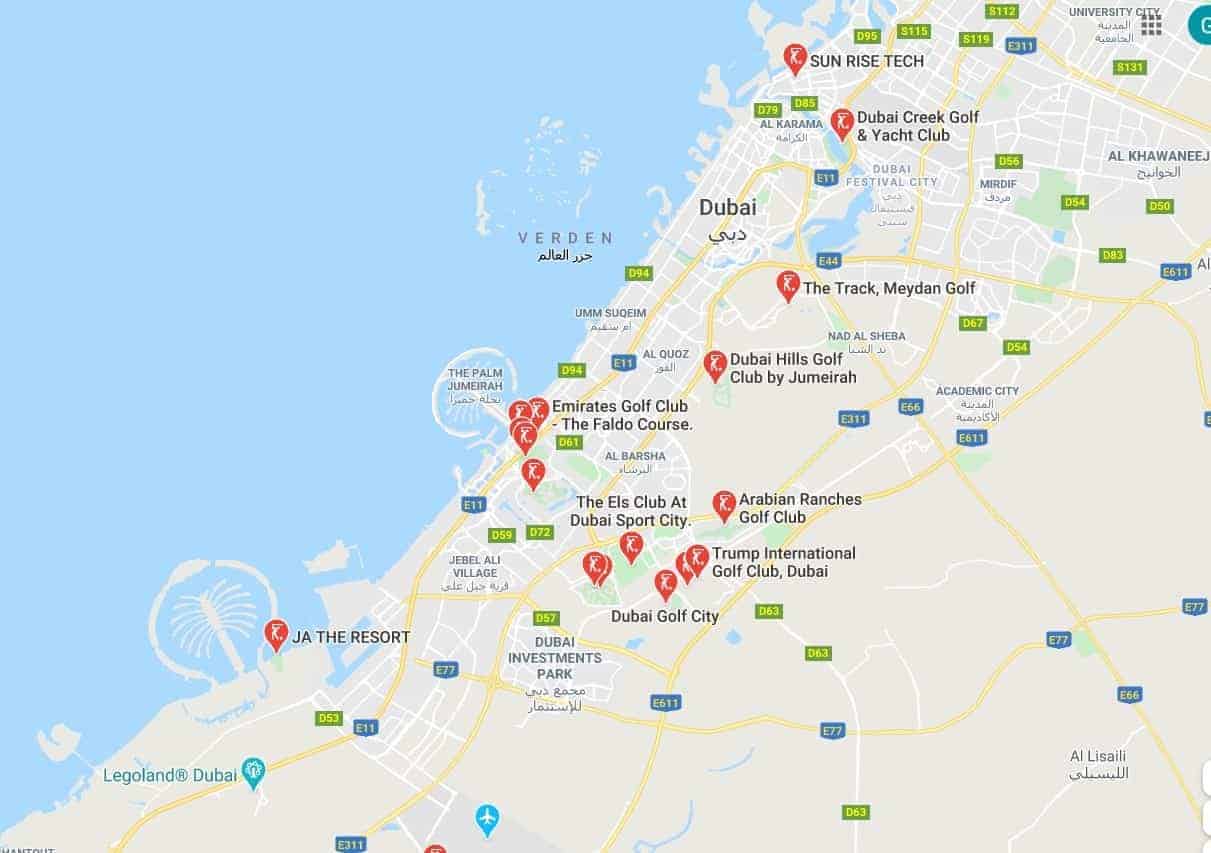 We can identify at least 16 golf courses in Dubai. Several golf clubs in Dubai have more than one golf course. There is also golf in Ajman, 25 km away, if you feel the urge to test even more golf courses.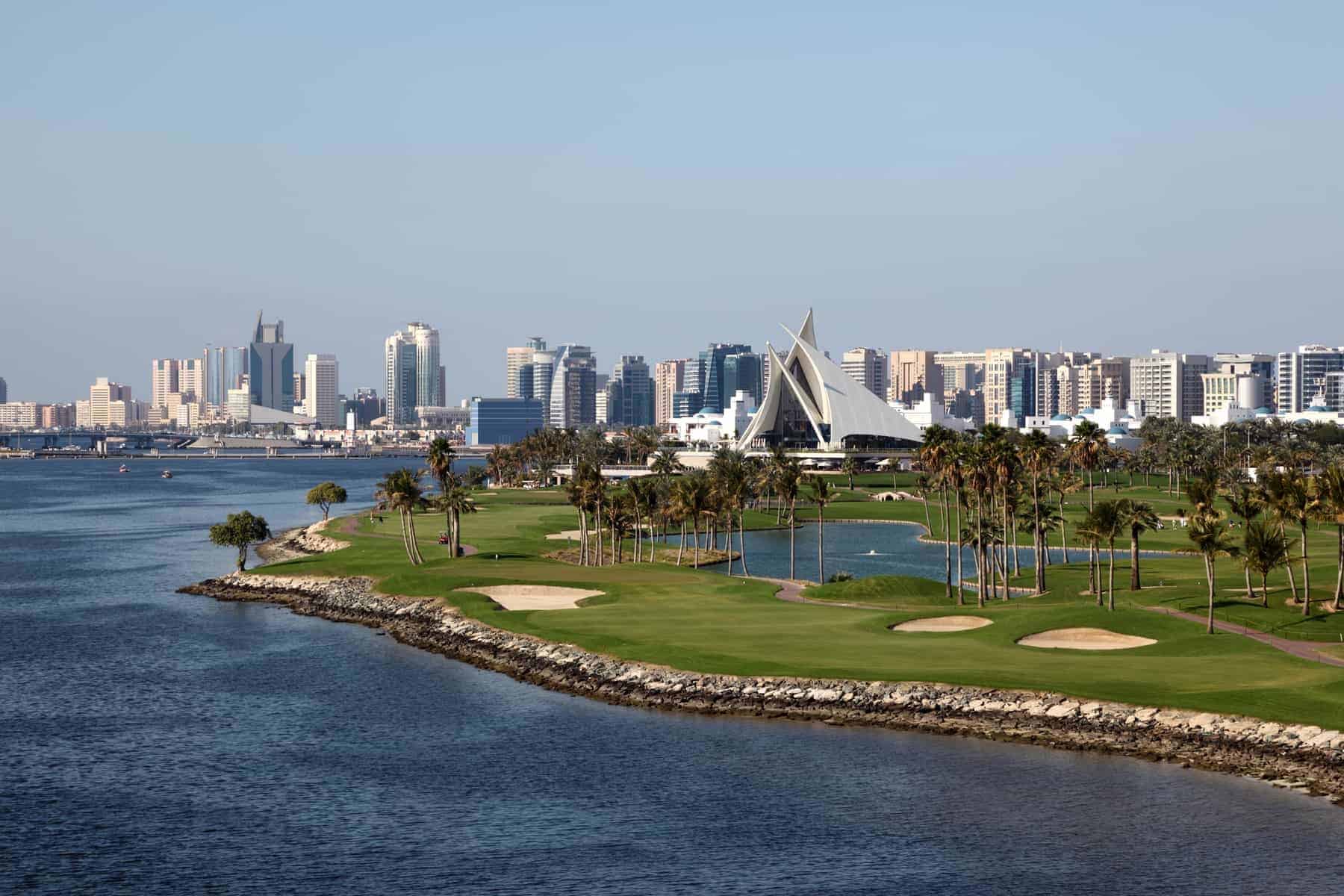 Dubai Creek Golf and Yacht Club
This was possibly the first golf course of superior quality in Dubai. And still, a seriously good golf course that gets better year by year as a well-maintained golf course should develop.
Designed by European Golf Design & Thomas Bjorn, captain of the Ryder Cup in 2018 and before that an experienced and winning Tour player.
The golf course was built in 1993. Dubai Golf & Yacht Club offers an 18-hole golf course, as well as a 9-hole, par 3 course, which certainly should also play maybe the first day, to tune in to all this golf perfection. The runway is just a few minutes drive from Dubai International Airport and is surprisingly quiet considering the city's location.
Golf World Magazine named this golf course one of the world's "Top Must-Play Golf Courses". The golf course measures 6,937 yards. This excellently maintained golf course has fairways, packed with date palms and palm trees in general, as well as several artificial lakes.
Signature golf holes are 17th and 18th, both of which have a creek that runs the entire length of the fairway. These holes will challenge even the most talented golfers.
Facilities include a golf academy managed by a team of qualified, top PGA professionals, a pro shop, and a gym. There are also six restaurants to choose from, including the popular Boardwalk Restaurant, Cielo Sky Lounge, and the iconic waterfront lounge, QD's.
Emirates Majlis golf championship course
No golf in Dubai without at least one of the two Emirates championship courses Majlis and the Wadi.
The Majlis course that most golfers know from TV and Race to Dubai. has an extremely positive reputation worldwide with a golf course layout that from the back tee-off challenges even the best golfers. The course houses hundreds of native species of flora and fauna, beautifully complemented by undulating fairways and seven freshwater and saltwater lakes. In Greenfee it costs approx. the same as Valderrama in Spain, ie over 300 Euros, but you just have to play it at least once, now that you have the golf clubs with you all the way to Dubai.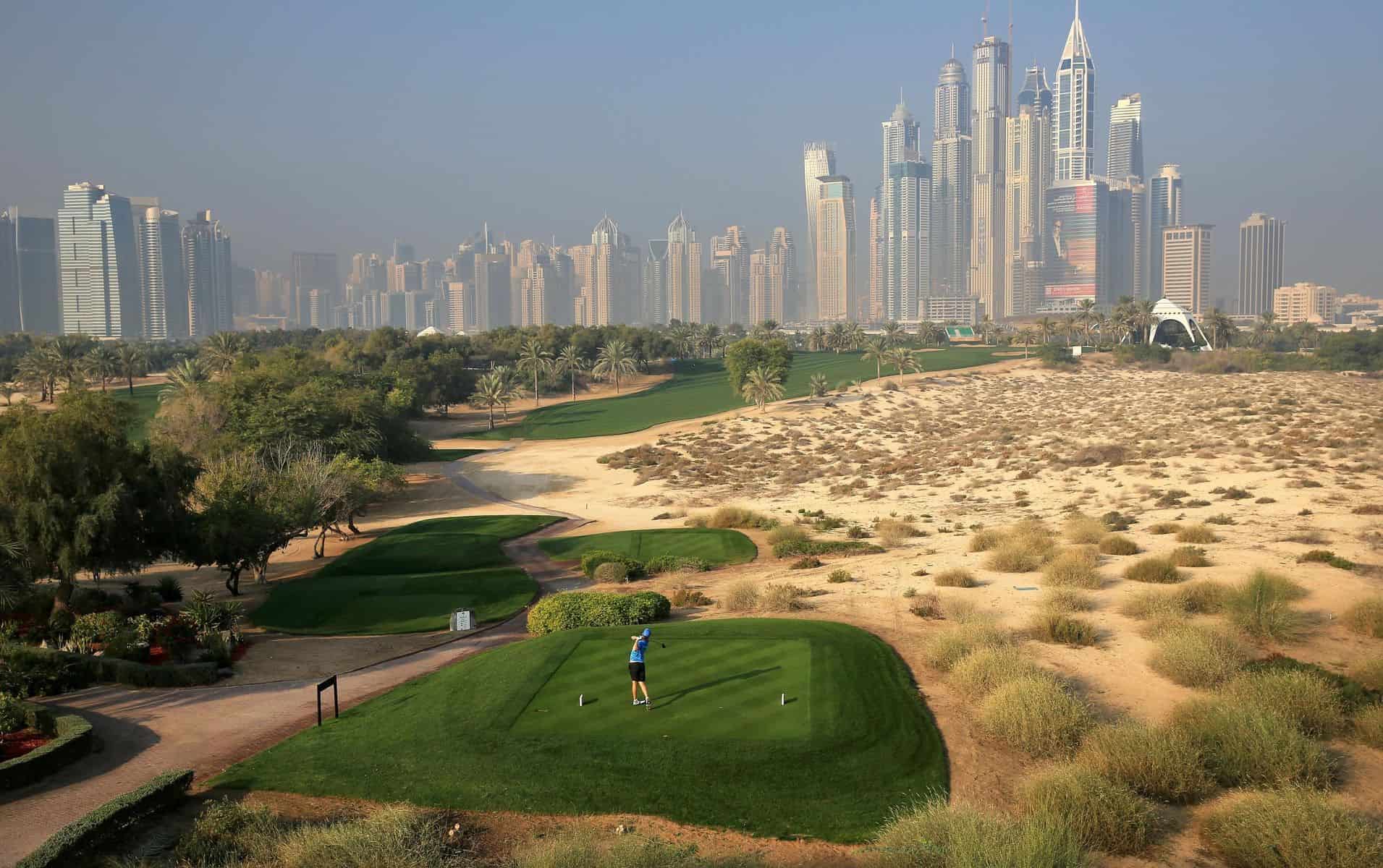 Majlis got its name from the Arabic word for 'meeting place'. One of the most prominent features of the course is the Majlis building itself, located between the 8th and 9th holes and a Dubai landmark since 1988.
Less than a month after the opening, the most important regional golf tournament – Pan-Arab – was held on the newly named Majlis course. The club's international recognition was confirmed in 1989 with its first European Tour event, the Dubai Desert Classic. Twenty-four years later, this tournament reaches hundreds of millions of television screens around the world, and most of the world's best players, including Tiger Woods and Ernie Els, have participated in what is one of the most prestigious European PGA tournaments.
The most challenging hole on the course is probably par 4, dogleg 8. Stroke index 3 (3 most difficult of the 19 holes) and plays a full 434 yards. It has the unusual difference from the other golf holes in playing uphill and requires a long, well-controlled drive to leave a reasonably second stroke against a small undulating green, where the potential and dreaded 3-putt is always a threat to your scorecard.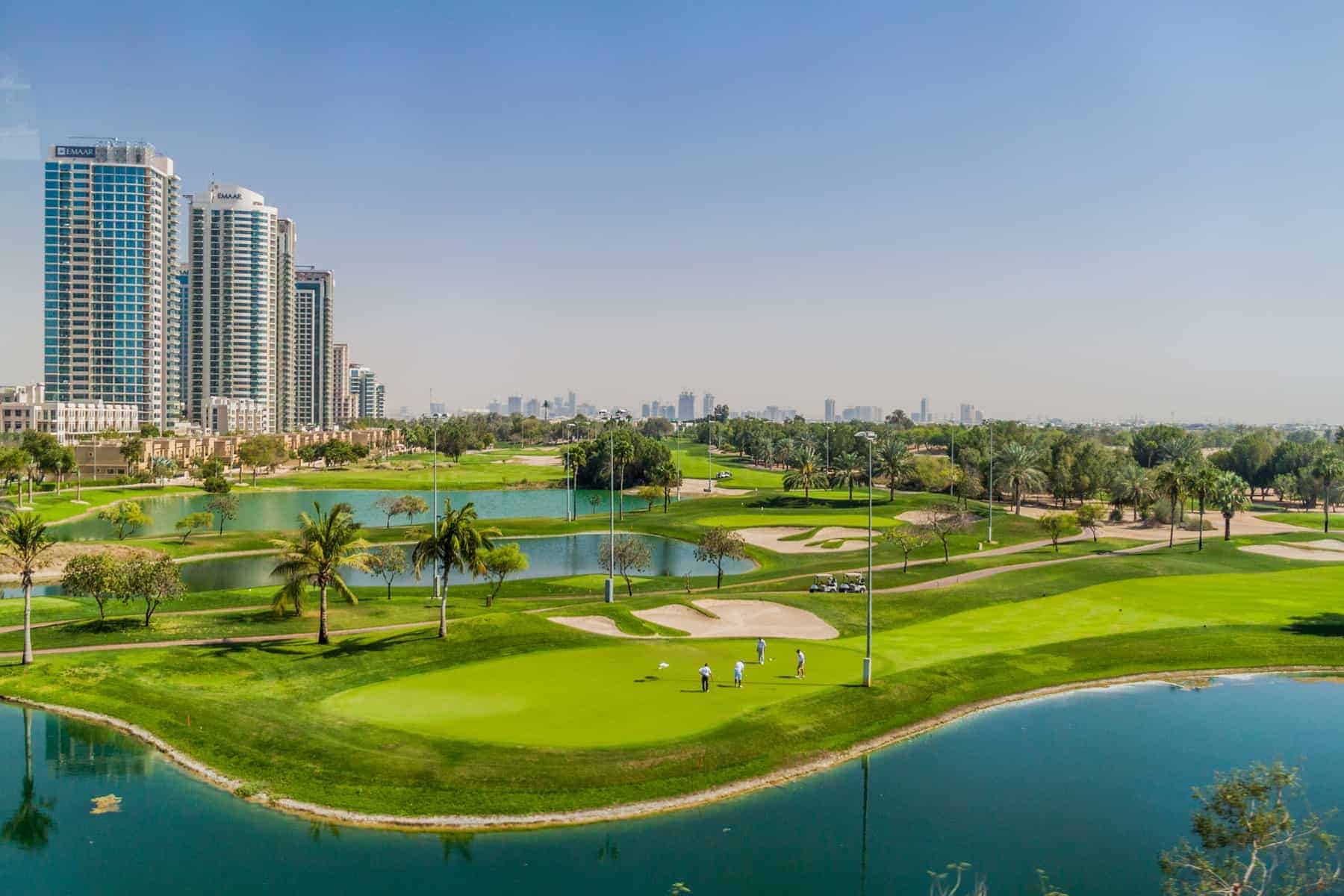 Emirates Golf Club, The Wadi
The Emirates Golf Club's second championship golf course, which opened in 1996, was named 'The Wadi', derived from the Arabic word for 'valley'. The course design in 2005 by the golf legend and the six-time Golf Tour winner Nick Faldo, now a very well-known golf commentator.  The combination provides a fantastic visual design with nuances and challenges on the championship course, giving visitors an exceptionally enjoyable golfing experience. A natural wadi (valley depression) that runs the length of the course comes into play on several holes without being classified as a hazard, and together with Faldo's trademark tees and bunkers, the wadi is combined with the naturally gently undulating terrain to create a unique golfing experience.
Par-72, the course has proven to be as popular as its predecessor, the old course from before 2005 and lures players to the beautiful, long course of 7,052 meters day or night thanks to integrated LED floodlights throughout the course.
So you can choose to play a late night in the comfortable evening/night temperature.
See both courses hole by hole here:
More golf juice in Dubai on the way in 2021.
Also try the fine golf courses in Ajman, 25 km from Dubai.
Fly to Dubai with Emirates

Visit truly amazing Dubai 
Dubai delivers a truly, extraordinary travel experience